Subscribe to receive fresh stories, news and updates.
Payment gateways are an important part of any online store. This is the most crucial element of the conversion funnel.
It doesn't matter how good the marketing strategy is, how well the ads are optimized, or how thorough the audience segmentation is. The bottom line is that customers need a reliable platform where they can make payments.
The process of choosing the right payment gateway is quite complicated. You must consider many factors like pricing, interfaces, and transaction fees.
You also want to research the law carefully. Some payment options are not allowed in certain countries and industries.
This article presents a guide to choosing the best payment gateway for WooCommerce stores. You can choose from a variety of options to suit the needs of your business.
What is a payment gateway?
This tool allows you to accept payments from your online clients. They are easy to set up and offer excellent solutions for your eCommerce store.
The setup process for your WooCommerce payment gateway
Choose your preferred plugin
Create an account
Link the payment gateway account to your bank account
Insert the payment gateway into your WooCommerce store
When a customer makes a payment, they will be redirected to a secure payment platform. WooCommerce receives a 'success' message once the transaction receives approval.
Then, the funds are transferred to your account.
The main role of a payment gateway is to verify the transaction before sending the money to the owner's account. This is an easy and reliable way to accept payments online.
Choosing the best payment gateway for WooCommerce
There are important aspects to consider when choosing the best WooCommerce payment gateway. Each gateway has its own policies, transaction fees, characteristics, and costs.
The right one for you will be the one that best suits your online business. These are some of the things you should consider:
Currencies and jurisdictions:
If you want your WooCommerce store to reach a global scale, it's important to consider what countries and currencies you want to work with. Choose the gateway with the lowest transaction fees and widest options.
Reliable interface:
Make sure your chosen gateway supports the most popular payment methods. This includes PayPal, Apple Pay, credit and debit cards, etc.
A seamless checkout is also a must-have.
Integration with third parties:
This will enhance your payment gateway process considerably. It will allow you to access more features that improve the entire checkout process.
Payment modules:
Some businesses sell both online and offline.
In this case, they need different modules to accept payments. This can be a POS or a card-swipe device.
Additional payment options:
PayPal, Stripe, and major credit cards are the most popular payment options. But you may want to consider adding others.
You can widen your audience by adding more specific payment methods.
Also, it helps to offer customers different services. This can be e-cheques, recurring payments, invoice issuing, and more.
Security measures:
This is important for your safety and reputation. Having fraud detection services and measures like PCI compliance is essential.
Development support:
Payment gateways must have potential access to the API and support software development.
The best payment gateway for WooCommerce options
Stripe
Stripe is one of the most popular platforms for payment processing. It allows credit card payments.
Clients can pay through Google Pay, Apple Pay, Alipay, and all major credit cards.
The WooCommerce plugin comes with an option to set up Stripe as your payment gateway. This is proof of Stripe's capabilities and popularity.
This option supports over 135 currencies and is available in more than 40 countries.
With no annual fees, Stripe is a very convenient WooCommerce payment gateway. Yet, there is a fee of 2.9% + 30¢ per transaction.
Stripe also offers benefits to your customers. They can assign recurring payments or use Stripe to pay for subscriptions.
It works well on different devices, thus enhancing your clients' user experience. It makes the checkout process smoother, so visitors stay on your website longer.
Fully compatible with WooCommerce, Stripe allows you to insert a payment form on your website. This makes the process easier for the client and helps increase sales.
Finally, Stripe has a modern mobile version. You can link its app to your online store seamlessly.
For usability and practicality, Stripe is one of the best WooCommerce payment gateways. It also allows you to accept payments from 40 different countries.
Braintree
Braintree belongs to the PayPal group, which makes it a reliable option. This plugin is great if you want to take PayPal payments and offer subscriptions.
It doesn't apply any monthly fees but it does impose a transaction fee of 2.59% + 49 cents.
This payment gateway offers many options to improve customers' experience. They can save their payment data for smoother checkout in the future.
It also includes a free Woocommerce extension.
Braintree is a leader in data protection offering the highest security standards. It complies with the PCI-DSS (Payment Card Industry).
Its advanced fraud detection system keeps you and your customers safe.
This payment gateway is practical and innovative and its data policies reflect this. Users can migrate their data whenever they want.
Thus, your business's information will always belong to you and remain confidential.
This WooCommerce payment gateway supports split payments, over 135 currencies, and strong reporting.
PayPal Standard
PayPal is one of the pioneers in the online payment industry. It's one of the most popular payment gateways and offers a variety of services.
A PayPal account can be set up for an individual or a business. It supports recurring payments and is available almost everywhere.
It integrates easily with online payments. By adding a 'Pay with PayPal' button, store owners can have a simple and secure checkout process.
Users can fund their accounts with a credit card or bank account, depending on their country of residence. Then, they can pay by credit card or straight from their PayPal funds.
While it's available in several countries, it's subject to restrictions in some of them. Hence, it's prudent to research your targeted market and have alternative options.
To set up your WooCommerce Paypal extension, you will need a business account.
The standard version doesn't include on-site payments. This means that your clients will be redirected to the PayPal website to complete the payment process.
The transaction fee is approximately 2.90+$0.30. However, the costs vary depending on the type of account and volume of business.
PayPal offers unique flexibility when it comes to processing payments. Its wide array of services and quick checkout make it one of the top payment gateways.
PayPal Pro
This premium version allows you to take PayPal credit card payments right from your WooCommerce store.
It's available in more than 200 regions, so store owners can make their business global. It's also one of the most secure platforms.
It includes anti-fraud features like automated fraud screening and Seller Protection Policy. It's worth noting that the PayPal Pro version requires a Payflow account, which can be harder to get.
PayPal Pro supports recurring sales, but it doesn't support recurring payments. Hence, it's not compatible with WooCommerce subscriptions.
Users have to pay a 35-dollar monthly fee and 2.9% + 30 cents for each transaction.
Square
Square is a powerful tool and one of the best payment gateway for WooCommerce solutions. With Square, you can manage your funds, take online and offline payments, and much more.
It stands out thanks to its unique capabilities. This includes social media integration, booking, and a POS for your brick-and-mortar store.
This option is excellent for selling and shipping products. It includes features like package tracking and in-person pickup.
Feel free to gather money in different ways. Square not only supports standard transactions but also donations and memberships.
It includes industry-related features like a module for ordering food and online appointments.
The standard transaction fee is 2.9% + 30¢. Yet, you can choose from different monthly plans to access more capabilities.
Square integrates with WooCommerce thanks to its plugin. It also allows you to take online and offline payments.
With a portable POS, you can sell online, at your store, or during a business trip.
Transform eCommerce Stores Into a Powerhouse Using Rey Theme
Rey is the world's most exceptionally intuitive WooCommerce theme with free high-converting, captivating designs.
The best part? It takes only a few clicks to get the online store LIVE thanks to its easy to use setup and template library.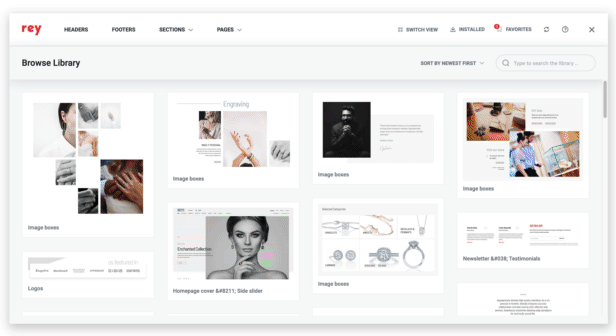 But this is what we're saying about our theme. Why believe us? Yet, here's what our users are saying:
Amazon Pay
This is one of the newest payment gateways on this list. Supported by the eCommerce giant, Amazon Pay is a reliable option for your WooCommerce store.
Its payment gateways are the ones that best adapt to mobile devices.
Customers can pay according to the payment method stipulated on their Amazon accounts. This can be a credit card or direct deduction from a bank account.
When it comes to transaction fees, there are no surprises with Amazon Pay. It charges the same fees as the options described above: 2.9% + $0.30 per transaction.
Amazon Pay integrates seamlessly with WooCommerce. It has a free plugin to manage the process.
Thanks to its many features, it engages the visitor. The client stays on the page during the entire checkout process.
This helps optimize conversion rates and improve SEO.
This plugin is an excellent solution for stores that work with multiple currencies. Also, clients can proceed to checkout without leaving the page.
With Amazon Pay, you get an excellent payment gateway that looks stunning on mobile devices. Its flexible checkout procedure makes the purchasing experience more pleasant.
With this alone, you have half a conversion.
Authorize.Net
With Authorize.net, you can accept e-cheques and credit cards. This option has excellent support and adapts well to any WooCommerce store.
The transaction fee is the same as with previous examples: 2.9% + 30 cents. Yet, Authorize.net charges a setup fee ($45) and a subscription monthly fee ($25).
Authorize.net is the ideal option for large businesses.
Choose this alternative if you want to take PayPal payments but not directly. Clients will be able to pay with their PayPal account without leaving your site.
To connect Authorize.net with your WooCommerce store you'll need their premium version.
Apple Pay
Like any Apple product, Apple Pay was built with the highest quality standards. It provides a unique purchasing experience thanks to its nice design and usability.
You can accept payments faster than through debit or credit cards. Also, it's more secure since the store owner doesn't receive the card number or CVV.
There are no monthly fees nor transaction costs.
The only downside is that it's only available for Apple devices. You must consider this when choosing your payment gateway and segmenting your audience.
With Apple Pay, you can receive payments both from your WooCommerce site and brick-and-mortar store.
Customers will be able to make payments integrating with other popular platforms. These include Starbucks, Kickstarter, and Airbnb.
Implemented via Stripe, Apple Pay for WooCommerce is a top-notch WooCommerce payment gateway.
WooCommerce Payments
This is a payment gateway developed by WooCommerce itself. Hence, it fits perfectly into the WooComerce ecosystem.
It provides a supreme checkout experience and an integrated payment solution.
It's a little more expensive than other gateways from this list. The transaction fee amounts to 2.9% + $0.30 for cards issued in the US.
There is an extra $1 fee for credit cards issued in other countries.
With WooCommerce payments you can accept all major credit cards. It supports subscriptions and recurring payments.
This gateway's best feature lies in its deep WooCommerce integration. Business owners can manage payments, respond to chargebacks, and make refunds from the WordPress dashboard.
It's easy to set up and manage. Further, it provides the key features to create a functioning online business.
Currently, WooCommerce Payments is only available for US-based businesses and products sold in USD.
Alipay
Alipay is an excellent option if you want to sell products or services to Chinese clients. Developed by Alibaba, it has over a billion users.
Its popularity relies on Alipay's high protection standards. It protects private information and boasts first-class payment security and real-time monitoring.
Chinese customers can pay in yuans, and you can access one of the largest markets in the world. By connecting your Alipay account to a bank account outside of China, you can potentially access 1.3 billion customers.
Compatible with different browsers and devices, Alipay is a flexible payment gateway option. Its high stability supports multiple transactions at the same time.
You can integrate Alipay with WooCommerce easily with a plugin. The platform is easy to set up, has a large documentation base, and supports renminbi payments.
The transaction fees are 0.1% on payments made by credit card and larger than $294. Its security, flexibility, and wide reach place Alipay among the best WooCommerce payment gateways.
Skrill
Skrill was born in England and used to be known as 'Moneybookers'.
In the beginning, its main focus was on the gambling business. But now it has expanded into one of the top WooCommerce payment gateways.
Now, Skrill has introduced the 'Skrill Money Transfer' service. Thanks to this, users can send money anywhere in the world.
It's based on the principles of a pre-paid card, as users need to fund the account in advance. But it compensates with interesting perks:
It helps users control expenses.
It helps to manage a budget.
The banking data is never shared with merchants.
It offers a pre-paid card.
Conclusion on the best payment gateway for WooCommerce
If you want to set up a WooCommerce site, you need a reliable payment gateway.
People who shop online usually have their preferred payment methods. If they don't find it at your store, they'll go someplace else.
There are several factors to consider. First, make sure you know your audience's preferred payment method.
Ensure that your chosen gateway is available in your targeted region. It must have low fees too so that you can remain competitive.
Don't ever underestimate the importance of security. By protecting your data and your clients' information you are protecting your reputation.
This will bring long-term benefits as clients are more likely to return.
Finally, choose the payment gateway that provides the best user experience possible.
The market is full of competitors. Many excellent WooCommerce businesses are fighting for excellence.
What will make you stand out is the ability to make your visitors feel comfortable. Make it as easy as possible for them.
Any of the listed options are excellent for payment processing. Next, a brief summary of each of the contestant's characteristics.
The best payment gateway for WooCommerce in a nutshell
Stripe: This is a great option with wide possibilities. It may require some extra customization from your side.
PayPal: This platform allows you to accept payments easily. With its quick setup process, you'll be ready to sell in no time.
PayPal Pro: It offers advanced features and protects both the merchant's and the client's rights. It uses automatic fraud screening technology.
Amazon Pay and Apple Pay: Powered by tech giants, both options are super reliable. Yet, they will be useful only if you have an audience that uses these platforms.
Square: It offers a flexible payment method. You can accept credit cards or mobile payment points.
Authorize.Net: With this option, you can accept credit cards and other payment methods. Customers can pay via PayPal without leaving your site. Besides the transaction costs, users must pay a monthly fee.
All in all, the best payment gateway option is the one that best suits your needs. Think about who you are targeting, what your preferred market is, what rules apply, and what security measures you want to put in place.
Managing an online store can be very profitable, but the competition is tough. Also, as technology evolves, new features are available every day.
So, establish your goals and search for the right payment-management option. Choosing the best payment gateway for WooCommerce is vital for your success.
If you enjoyed reading this article on best payment gateway for WooCommerce, you should check out this one about the WooCommerce-Paypal sandbox.
We also wrote about a few related subjects like how to customize the WooCommerce shop page, minimal WooCommerce theme options, WooCommerce vs Magento, fastest WooCommerce theme, luxury WordPress themes and WooCommerce dropshipping plugin examples.