Subscribe to receive fresh stories, news and updates.
Running an online WooCommerce store is a difficult enterprise. One of the biggest challenges is handling stock, i.e., sorting out products, managing inventory, shipping, and refilling.
These processes cost money, resources and take time. For this reason, many business owners prefer to use dropshipping plugins.
With dropshipping, sellers don't handle the merchandise but order it from a third party. When someone makes a purchase, the store buys the product from a third party which ships it directly to the retail client.
A typical WooCommerce plugin does not cover the needs of a dropshipping approach. Instead, store owners need a WooCommerce dropshipping plugin.
Such a plugin will help them run a successful online business without the concerns of handling merchandise. Also, clients will receive a top-class user experience.
This article presents a review of the best Woocommerce dropshipping plugins. Picking the right one can make a difference in the success of an online business.
AliDropship
AliDropship offers a comprehensive solution. It is designed to be used with AliExpress suppliers.
With this WooCommerce dropshipping plugin, store owners can easily import products from AliExpress. It also provides a variety of features to make the selling/shipping process much smoother than usual.
You can import the product reviews into your own site and give it a nice professional look. These reviews will also help you promote your merchandise.
It is possible to automatically adjust products' pricing and inventory. You can adjust these factors according to your profit settings.
With AliDropship you can automatize an order with only one click. Also, the plugin tracks orders and sends messages to clients about their order status.
AliDropship is the perfect choice for running a well-organized online store that provides excellent customer service.
WooCommerce Dropshipping
This option comes with very useful features. From the WooCommerce Dropshipping dashboard, you can manage your suppliers' information. This includes available products, item counts, email, and addresses. Keep all this data in one place and ready for easy update.
WooCommerce Dropshipping offers a Chrome extension to import products from AliExpress. You can also import products using a CSV.
It generates order notifications automatically. These are sent to suppliers and contain all necessary information: shipping address, preferred shipping method, and other order details.
These automatization features will help you run your WooCommerce dropshipping store hassle-free.
Dropified
Dropified is more than a WooCommerce dropshipping plugin. It is a powerful tool to make the best of your online store.
It is the perfect choice for those who already have a fair amount of sales. This plugin will help you analyze results and optimize processes. Thus, you can focus on what matters: growing your WooCommerce store.
Dropified comes with an extensive product collection and a wide range of integration possibilities. You can enter the AliExpress platform and select the products you want to import into your store.
When your supplier makes a change in their product prices, they will be automatically updated on your dropshipping store.
But this plugin's most attractive feature is the analyzing possibility. Store owners can extract reports on their sales. Thus, they can understand where their money is coming from. You can use an m&a dataroom for storing and sharing financial statements for business transactions. By understanding a product's performance it is possible to optimize marketing efforts.
Transform eCommerce Stores Into a Powerhouse Using Rey Theme
Rey is the world's most exceptionally intuitive WooCommerce theme with free high-converting, captivating designs.
The best part? It takes only a few clicks to get the online store LIVE thanks to its easy to use setup and template library.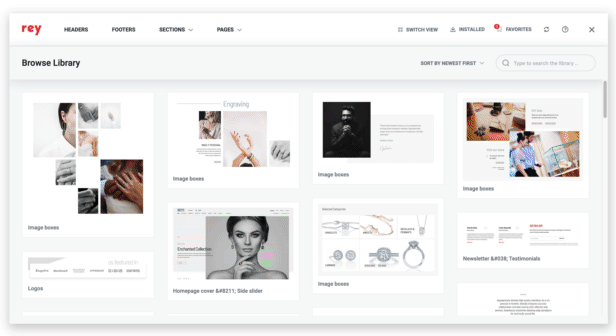 But this is what we're saying about our theme. Why believe us? Yet, here's what our users are saying:
Ezusy
Ezusy is easy to use and set up. It comes with a large knowledge database for outstanding user support.
This is one of the best WooCommerce dropshipping plugins. Especially because it has features that make the dropshipping process much simpler.
Ezusy sends notifications on every product update. It's compatible with a variety of advanced plugins and WordPress themes.
This dropshipping plugin allows you to import AliExpress products hassle-free. Also, you can order items from AliExpress with only one click.
This plugin is a strong tool to run a dropshipping business successfully.
Spocket
This dropshipping plugin offers an advantage for those who are starting this business. Also, it is convenient for store owners who want to offer their products locally.
Working with major brands like AliExpress is a guarantee of reliability. Yet the shipping costs are quite higher and time frames are longer. Shipping items from China or the US can represent huge delays and issues for smaller stores.
Spocket fills this gap. It offers the possibility to locate providers in your own area. Thus, you significantly decrease the shipping costs. Also, you can access boutique products, unique brands, and artisans designers.
This approach helps a dropshipping business to stand out among competitors by offering lower prices and one-of-a-kind products.
WooShark
WooShark is the perfect option for large dropshipping stores. It offers the possibility to import unlimited products with no extra fee.
With this WooCommerce dropshipping plugin you can import products from the largest brands. These include Amazon, eBay, AliExpress, Banggood, Tmart, Etsy, and Chinabrands.
This plugin offers one of the most flexible options in the market. You can import product images and variations, descriptions, attributes, and ratings. All details are imported according to the language and currency you set up on the product page.
With a Google Chrome extension, you can import items from any supplier with one click.
WooShark connects you with the largest providers. It gives you the opportunity to bring variety to customers.
AliExpress Dropshipping Business plugin for WooCommerce
This option also uses a Chrome extension to import products. You can edit many variables such as the description and name of the product. These variables won't affect your product limit.
This plugin comes with a limitation: you can only upload up to 1,000 products. This is still good for small to medium stores. Yet if you are planning to expand your dropshipping business further this is not the best option.
This is a good option for stores that want to sell internationally. Ali2Woo supports multiple currencies and languages.
WooDropship
WooDropship also provides a Chrome extension that allows for easy importing. You can import AliExpress products directly to your store with one click.
It is possible to synchronize the product's price and availability. This prevents a client from ordering an out-of-stock item. Also, it is possible to set up the system to automatically add your mark-up to the price.
WooDropship includes an ePacket shipping filter. This is helpful for faster delivery management, especially when the products are sent from China.
This WooCommerce dropshipping plugin allows for the removal of watermarks on Aliexpress products.
eBay Dropshipping and Fulfillment for WooCommerce
This is an efficient tool that allows you to import products from eBay. From your WooCommerce store, you can edit these products by colors, sizes, materials, etc.
It is also possible to adjust the products to your brand. You can change titles, descriptions, images and add your own phrases.
This WooCommerce dropshipping plugin is compatible with the latest versions of WordPress and works with all themes.
Spreadr
Spreadr allows you to create a dropshipping business working with Amazon. There are two options.
With the first option, you can work as an Amazon affiliate. Thus, you send clients directly to Amazon to make their purchases.
In the second option, you process the orders yourself like with a true dropshipping system. The second option requires more work but also brings higher profits.
You can import products to your WooCommerce dropshipping store. All you have to do is to insert the product's URL from Amazon. Once imported, the product is stored in your WordPress database as if it was manually created.
Knawat
This is a new plugin available for dropshipping stores. This tool helps you to import profitable products into your WooCommerce platform. Knawat is a cost-effective option thanks to its payment policy.
It works with reliable suppliers from Turkey and Europe. They offer high-quality products and excellent shipping services.
You can choose from 600,000 items at wholesales prices to offer on your online business. These are sent to clients by international carriers in 5 to 7 business days.
Our favorite feature about Knawat is its payment policy: you pay only when you make money. You can pay Knawat once you have received the payment from the customer.
DropshipMe
DropshipMe me makes your life easier.
Are you worried that you are not offering your customers the best products? Do you want to sell top merchandise but you don't have the time for research? DropshipMe is your solution.
This plugin allows you to pick your products from a curated list. DropshipMe chooses the best-rated products for you. Thus, you can create a WooCommerce store in no time.
Product pages can be enhanced with customers' reviews to provide real social proof of quality. The imported products come with optimized images, descriptions, and titles for better positioning in search engines.
This tool does not only ensure the quality of the product but also provides secure shipping. You can choose to work with those providers with better shipping history.
DropshipMe helps create a superb online store with top products and great delivery. This can be done quite easily thanks to the plugin's features.
WooCommerce Dropshipping Suppliers Pro
With this WooCommerce dropshipping plugin you can work with different suppliers, import products, and manage your inventory through CSV files.
This platform helps to run a business hassle-free thanks to its automation features. When a client places an order, the plugin sends automatic notification emails to suppliers. Thus, they receive the order's details.
If a client purchases from different suppliers, this dropshipping plugin helps you deliver quickly and neatly.
It includes many integration possibilities, thus helping create a fully functioning store. Thanks to these integrations, you can estimate your shipping rates depending on the supplier.
WooCommerce Dropshippers
WooCommerce dropshipping is an excellent option for this business and what makes dropshipping worth it.
It works with major e-money platforms such as PayPal. Thus, you can make payments to suppliers in any part of the world. You can choose whether to display or hide your suppliers' info on your platform.
This plugin has all the necessary features to turn your WooCommerce store into a successful dropshipping business.
What is the best WooCommerce dropshipping plugin?
This type of business comes with small profit margins. Hence, it is necessary to optimize processes as much as possible. With a WooCommerce dropshipping plugin you can turn your online shop into a dropshipping store. This article lists the best plugins for this purpose.
All the options include the essential features to run a WooCommerce dropshipping business. Yet each of them has unique characteristics to consider. The best option will be the one that best suits your business's goals.
Dropshipping doesn't have to be as difficult as it sounds. Find a plugin that helps you automate processes and reach your targeted niche.