Subscribe to receive fresh stories, news and updates.
You will get better results from personalized emails than generic ones. Woocommerce comes with a couple of default email templates, which are very useful. However, there will be times you need other templates that go beyond the standard ones.
Various plugins are available that offer different WooCommerce email templates. Some of them have very basic features, only changing the fonts, colors, and logo. There are also some more advanced plugins. These have a drag-and-drop email builder that allows the user to make a template from scratch. What follows is a list of the best email template plugins for WooCommerce.
This article will first consider why customizing your business emails is so very important. Then it will delve into the list of best WooCommerce email template plugins.
Why Use WooCommerce Email Templates?
The main reason for using customized WooCommerce emails is branding. Of course, your reason for sending out these emails is to inform your customers of their transactions. If your email is generic, they will glance at it and file it. Your email will have a more significant impact if it has your logo and brand design.
Emails are more recognizable by customers when they have a specific image and design. Customers get familiar with your brand and will start to build trust in it. They will also begin to trust your products or services. Using the right colors, font, and languages continuously creates your brand. For a picture, it is important to remove the background from the image so the image blends well into the theme.
Including coupons or samples is an additional way of building a recognizable brand. If your brand is missing, it looks as if there is no one behind the email. Clients expect your email to be personal and professional when they receive it.
A well-designed WooCommerce email engages the reader. You shouldn't also forget about adding a letterhead in the beginning for more creativity, implementing your branding elements such as logo and slogan, and writing engaging content in your email messages to appear more professional.
Time and increased transactions build a relationship between your customer and your company. That means they are more likely to revisit the site to purchase more.
Generic emails are boring, putting the reputation of an otherwise good company in jeopardy. That is why customized emails are so crucial for the success of your company. Email customizers for WooCommerce help to make a memorable brand. Now let's dig into the best WooCommerce email templates plugins.
Email Customizer Pro
The first email template customizer for WooCommerce is Email Customizer Pro. It is the simplest customizer. It handles colors, fonts, footers, headers, and more.
It offers various ready-made templates. These templates take care of many of the complexities of creating an email layout. All you have to do is select a template and focus on adapting the template to your company's branding.
The plugin has a customizer user interface similar to the Live Customizer included with WordPress. A considerable advantage is that you can see the effects of the changes as you make them.
With this Email Customizer Pro plugin, you can change the email's background color, add logos, and much more.
Kadence WooCommerce Email Designer
Number two on the list is Kadence WooCommerce Email Designer, which can edit custom email templates. These custom emails will attract more people to your platform. And it offers some unique features.
The Live Preview feature shows you what the template looks like before finalizing the layout. That way, you can see what changes the template still needs before becoming an inviting email.
Kadence also includes some ready-to-use templates. They don't need any editing, soyou can import them straight into the Edit Page. You have the option to pick the one that best fits your company's brand.
YayMail
YayCommerce offers an email template customizer called YayMail. Its range of features helps add branding to WooCommerce emails. This gives them a professional look.
YayMail has a drag-and-drop editor. The interface allows you to add different elements to transactional email templates. After following the simple installation procedure, you can add:
Buttons
Columns
Custom logos
Dividers
Icons
Image boxes
Image lists
Order items
Shipping and billing addresses
Text
Text lists
Titles
Videos
After making the design, you can apply it to different templates, such as New Order, Cancelled Order, or Refund Order. The Send Test Email feature allows you to see what the actual email will look like and its impression on customers.
WooMail
The WooMail plugin comes with ten email templates that are ready to use with WooCommerce. Customizing templates is intuitive. The preview function allows you to see how the email will appear. The test email provides an even clearer vision of the email customers will receive.
WooMail can apply the email template to any email. So you can be sure that all emails, including Order Updates and Password Reset emails, will have a uniform look.
WooMail'sRecommended Products features are a nice plus. It shows other featured products that might interest the email recipient. And that helps increase sales even more.
WordPress Email Template Designer – WP HTML Mail
Downloading and using the WordPress HTML Mail plugin is free. It is an excellent tool to design and customize email templates. Apart from working with email templates for WooCommerce, it works with the following:
EDD transactional emails
Contact form notifications
WordPress core emails
BuddyPress
And much more
Adding and changing images is very easy. You can alter email alignments and see live previews on how changes affect the layout.
Emaily
A responsive multipurpose email template customizer, Emaily comes with various email layouts. It focuses on the entirely vector-based PSD template file. You can add and modify icons and other smart objects using Adobe Illustrator or a similar vector program.
Out of the box, Emaily contains more than 35 modifiable email templates. It contains WooCommerce, WooCommerce subscription, memberships, and booking layouts. The templates have different purposes, such as:
Sign Up
Sign In
Welcome
Booking
Shopping cart
Store/shop
Subscription
Email Customizer for WooCommerce with Drag and Drop Email Builder
Email Customizer for WooCommerce offers Drag and Drop Email Builder plugin to customize emails. The drag-and-drop editor simplifies changing details, like logos, headers, and text.
The editor creates transactional email templates that give a professional impression.
Its primary features include:
Fully customizable pre-made email templates
Block-based images, text, and paragraph editing
Coupon codes to boost sales
Multi-language support for creating emails in different languages
Transform eCommerce Stores Into a Powerhouse Using Rey Theme
Rey is the world's most exceptionally intuitive WooCommerce theme with free high-converting, captivating designs.
The best part? It takes only a few clicks to get the online store LIVE thanks to its easy to use setup and template library.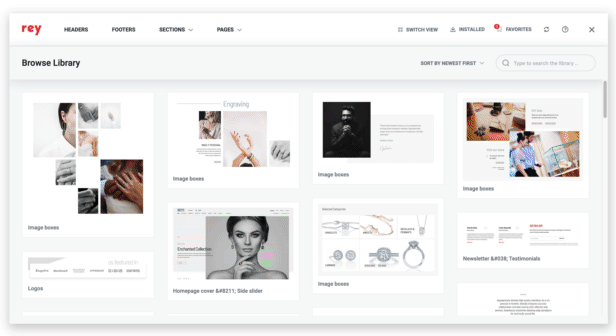 But this is what we're saying about our theme. Why believe us? Yet, here's what our users are saying:
Email Template Customizer for WooCommerce
The next customizer for email templates is Email Template Customizer for WooCommerce. It has a simple drag-and-drop interface and a live previewer. The preview function displays what an email will look like on a desktop and mobile device.
The drag-and-drop editor shows the other elements on the left. Dragging and dropping these items into the editor area opens a settings dialog box. This box shows the different options for that item, such as changing text, colors, spacing, and margins. The possibilities for creating the perfect email template for an online business are endless.
Clicking the hamburger menu in the top right corner gives access to available placeholders. These dynamic placeholders make personalizing the email body's content very straightforward.
MailPoet
Creating WooCommerce email templates with MailPoet's drag-and-drop template editor is fast and simple. This lightweight tool has different content widgets. You'll enjoy the options for buttons, images, and text.
MailPoet doesn't allow users to change the color of every single element. Instead, you can choose one brand color and apply that to predefined places.
This isn't just an editor for custom email templates. You can also use this plugin to create newsletters. It also automates the delivery of WooCommerce transactional emails. You don't have to worry anymore whether those emails were sent or not. Additionally, boost your email deliverability rate and credibility by enabling DMARC.
Preview E-mails for WooCommerce
This WooCommerce email customizer plugin has a very useful preview function. All you have to do is open an email template, enter the order information, and type in the email address to see a live preview.
Preview E-mails for WooCommerce creates responsive email templates, and the plugin works with any device. Three premium plans unlock even more features. Best of all, this plugin is free.
WooCommerce Email Template Customizer
This is yet another excellent tool for online business owners. WooComerce Email Template Customizer gives you full control over the appearance of WordPress emails. No coding knowledge is required to use this plugin.
This plugin also has a drag-and-drop builder to edit transactional email templates. It has a pane on the right side with specific options for each element.
All email templates have a horizontally restricted design that works on all devices. Now you don't need to adjust the email for different screen sizes.
Email Customizer for WooCommerce by ThemeHigh
You can make email templates to give a positive and efficient image with this customizer. Various colors and designs add a professional touch to WooCommerce templates. Modifying existing templates is easy with the included builder.
You can check whether the template looks right with the built-in preview function. If not, continue to modify it before sending it out. It is also helpful for verifying that the message is correct and nothing is missing.
Email Customizer for WooCommerce by ThemeHigh comes with different email elements. Some of them are basic, hooks, and WooCommerce.
WooCommerce Email Customizer
Editing WooCommerce templates is uncomplicated, thanks to the Live Customizer. WooCommerce Email Customizer lets you edit the email body, header, and footer text. And it shows the change's effects instantly.
In addition to the live preview function, this plugin can also send a test email so that you can see precisely how your WooCommerce email will appear.
Some of the elements that you can edit with this tool are:
Custom header image
Background colors
Text colors
Font size
The options discussed above show the customizer's usefulness. The free version doesn't allow you to edit the email's default text. So if you need to edit that, go for the Email Customizer Pro plugin.
WooCommerce Custom Emails by RightPress
Another tool for editing email templates is this plugin, WooCommerce Custom Email by RightPress. This robust WordPress extension allows you to send transactional emails the way you want.
This plugin's features help you make and customize personalized emails. That includes not only standards emails but also emails for specific occasions.
Below are some WooCommerce Custom Emails by RightPress' main features:
A rich editor for formatting email content
Create reusable content blocks
Insert dynamic content with one of the more than 37 macros
Send emails to shop managers and clients
Set triggers to send off custom emails
WooCommerce PDF Invoices and Packing Slips
WooCommerce PDF Invoicing and Packing Slips is one of the best WooCommerce email templates editors. It has more than 400,000 installations and a 5-star rating.
This plugin makes invoicing simple and easy. It automatically adds a PDF invoice to every confirmation email that customers receive after they place their order.
This tool comes with several basic ready-made templates. Use them as inspiration for a personalized template or build a new template from scratch.
You can download or print invoices and packing slips directly from the dashboard. This WooCommerce plugin is available in close to 20 languages.
Decorator – WooCommerce Email Customizer
Default WooCommerce emails are generic and more than a little boring. Fortunately, Decorator – WooCommerce Email customizer does what it says it will. It decorates standard WooCommerce emails to match your company's brand.
This plugin is minimalistic but can do a lot. It sets up a stand-alone copy of the Customizer tool. You can use this tool to change WooCommerce email templates at will. A Live Preview immediately shows what the changes look like before sending the email to your clients.
The preview feature is just one of the many tools that come with Decorator. The administrator page shows all the options and settings that customize the templates.
Visual Email Designer
Smackcodes is the group of developers behind Visual Email Designer. This plugin is straightforward to use, thanks to the drag-and-drop interface. You can apply templates to different types of emails. It contains three types of email templates:
Order-based
Product-based
Category-based
These are the top email categories. On top of that, there are two bonus types: custom product delivered status and corresponding email template. All of these templates are fully customizable.
Other major features of this WooCommerce plugin are:
Email preview
Adding brand logo
Unique fonts
Changing background-color
Email Text Customizer for WooCommerce
The Email Text Customizer for WooCommerce plugin customizes WooCommerce emails. It is a lightweight tool that allows you to customize WooCommerce email text. And it does so without requiring any coding knowledge.
This plugin is very efficient at what it was designed to do. This piece of software is free and functions under an open-source license.
It works with default WooCommerce and custom WooCommerce templates. It will still work, even if you have your own email templates.
Woo Email Control
You can't add images to the body of default WooCommerce email templates. Yet, you can do that with this plugin.
It is free. And with it, you can embed product images in the body of your WooCommerce email messages. You can also customize email headers.
Two options allow you to see whether or not images work well. The first option uses a browser to see the output. The second one uses real data and sends a test email to your email address.
Woo Email Control not only works with default templates but also custom templates. You just need to ensure that the templates contain the right hooks.
Ending thoughts on these WooCommerce email templates
Customizing WooCommerce emails is one of the elements for user engagement. The default WooCommerce emails are generic and uninteresting. Now that new technology is emerging, it is time to implement customized email templates.
To utilize the full potential of WooCommerce you would need a highly skilled professional to set you on the way, therefore consult with some IT support company.
With this list of WooCommerce email template customizers, choosing the right one is easy. Make a list of your requirements and compare them with each example on the list. Then pick the one that is best for your WooCommerce online store.
Free WordPress repo versions are excellent for a tight budget. However, going for a premium WooCommerce email template customizer can do much to help your online business grow.
If you enjoyed reading this article on WooCommerce email templates, you should check out this one about the best furniture WordPress theme examples to choose from.
We also wrote about a few related subjects like fastest WooCommerce theme, how to customize the WooCommerce shop page, minimal WooCommerce theme options, WooCommerce vs Magento, Elementor WooCommerce theme, fashion WordPress themes, luxury WordPress themes, WooCommerce dropshipping plugins, and jewelry WordPress themes.