Subscribe to receive fresh stories, news and updates.
WooCommerce is a platform that helps turn a WordPress website into an e-commerce store. This plugin offers all the necessary tools to display products and sell them online. Square is a POS software that handles payments.
The combination of these platforms creates a powerful tool for both brick-and-mortar and online shops. It makes processes easier thanks to a variety of features. Shop owners can synchronize prices and inventory automatically using the same payment method for all types of purchases.
With these features, they can spend less time tracking inventory manually or trying to reconcile data from two different sources. Such automated processes will give shop owners more time to promote the business and brand.
WooCommerce-Square Integration: Why use this combination?
Integrating Square and WooCommerce is a good option for shops that want to combine offline and online sales. Online shop owners can establish a physical store, and brick-and-mortar businesses can begin to sell online.
Users can benefit from WooCommerce's features and Square's payment options. With the free version of WooCommerce, owners can create an eCommerce platform with all the necessary features. By adding Square, they access a flexible payment gateway.
Clients will be able to make payments by credit card and other methods. This widens the business's niche as people with different payment preferences can make purchases.
Square for WooCommerce: Advantages
Square is a plugin known among shop owners for its payment capabilities. It allows clients to pay with their credit cards, and it's hassle-free for the business.
Stores don't need special card equipment or registers. With Square, it is possible to establish a POS and pay from mobile devices. Owners can accept payments easily from their smartphones or tablets.
On the other hand, WooCommerce is one of the most popular plugins to create an online store. It is WordPress-based and used by 4 million websites around the world.
With WooCommerce, admins can easily turn a site into an online shop. It offers a free version, various extensions, and excellent tools. Thus, store owners can create a solid eCommerce platform and provide customers with the best services.
When combined, WooCommerce and Square provide a powerful tool that benefits both clients and owners. Owners can keep inventory up to date and manage their customers' details from a single platform. Clients can pay by credit card online or in situ at the store.
Square for WooCommerce is a free plugin. It was developed and is supported by WooCommerce, allowing for hassle-free integration. By combining WooCommerce and Square, users can synchronize different features for easier managing.
Owners can sync the following features:
Products
Categories
Prices
Images
Inventory numbers
Admins can synchronize all inventory so that it is automatically updated every hour. Thus, the information on the WooCommerce store and Square plugin will always match. It is possible to disable automated sync and synchronize each product manually.
Another advantage is the possibility to establish the Square payment gateway as the only payment platform. Shop owners can handle all payments from one dashboard regardless of whether they come from an online or offline source.
Benefits of integrating Square to WooCommerce
Sync inventory manually or automatically
Accept major credit cards through Square payment gateway
Use Square as a payment gateway for online purchases and a Point of Sale for a brick-and-mortar shop
How to Integrate Square to WooCommerce
What you Need
Before starting the integration process, you will need to have a few things in place. These include:
Set up a Square account. You can create an account for free after confirming your identity. Then, add your business information and bank account details. The latter is needed to fund the account. The process is usually simple, yet it varies depending on the country of residency.
WordPress and WooCommerce plugin. To proceed with the WooCommerce-Square integration, you'll need a WordPress-based site with WooCommerce installed. The plugin must be activated.
WooCommerce-Square Integration Process
1. Download the Square for WooCommerce extension.
2-Log into your WordPress dashboard. Go to: Plugins > Add New > Upload
3. Click "Upload Plugin" and then "Choose File." Select the file you just downloaded and click "Install Now." Your Square plugin installation will begin.
4. Once the installation is completed, you will receive a confirmation message. Then click "Activate Plugin."
5. Next, you must authenticate your Square account with your WooCommerce. For this, go to WooCommerce > Settings > Integrations.
6. You will be asked to sign in to your Square account and follow the integration steps. The system will send a verification code to confirm your identity. Then you must give WooCommerce the necessary permission.
Setting up Square Payment Gateway
Once you link your Square and WooCommerce accounts, you can set up your payment gateway. For this, go to WooCommerce > Settings > Payments in your WordPress dashboard. Select Square as your preferred payment method by clicking "Set Up." Once Square is chosen as your payment method, this button will change to "Manage."
Checkout page
The first setting controls the layout of the checkout page. Make sure to tick "Enable this gateway" to set Square as your payment processor. Here, it is possible to edit the title and description that the customer will see at checkout. You can also add card logos so that clients know what credit card options are available. You can enable the option for users to save their card details for future purchases.
Payment button
If you scroll down, you will find your digital wallet settings. Here you can enable or disable Google Pay and Apple Pay and edit the button's appearance.
Decline message
With Square payments, you can set up a decline message. Thus, if a card is declined, the customer will know the reason.
When you click "Save changes," you save all the edits you have made to your checkout page and button.
Now, the Square payment gateway should be ready. Admins should revise Square's setup guide and dashboard. This ensures that there are no loose ends, and clients will be able to make payments hassle-free.
Although these details may seem trivial, they help create a pleasant user experience. Visitors usually want to know what credit card options are available, why their payment was rejected, etc. Also, if they can save their card details, they are more likely to come back for another purchase.
Manage transactions
When you start receiving payments, it will be easy to manage transactions from your Square dashboard. You can access the detailed transaction history. Transactions are labeled as "WooCommerce" and include an order number.
The dashboard will display transactions from your WooCommerce store and your Square POS. Thus, it becomes easier to manage transactions from online and offline purchases.
Transform eCommerce Stores Into a Powerhouse Using Rey Theme
Rey is the world's most exceptionally intuitive WooCommerce theme with free high-converting, captivating designs.
The best part? It takes only a few clicks to get the online store LIVE thanks to its easy to use setup and template library.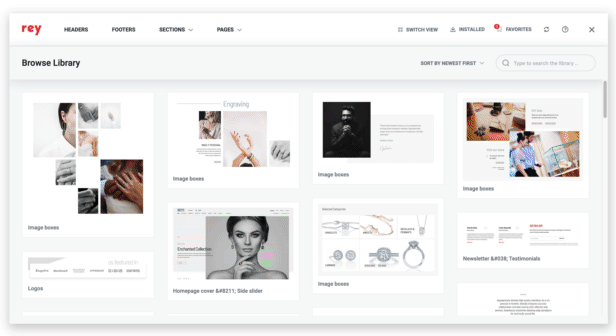 But this is what we're saying about our theme. Why believe us? Yet, here's what our users are saying:
Synchronizing Square for WooCommerce
If a person has products uploaded in Square or WooCommerce, they will synchronize both ways.
Synchronize inventory from Square to WooCommerce
Brick-and-mortar shops usually have a Square account before creating a WooCommerce store. In this case, owners probably have many products uploaded to Square. Thanks to the WooCommerce-Square integration, inventory can be synchronized across both plugins.
First, the admin must add SKUs to each Square product. The product's SKU in Square must match exactly its counterpart in WooCommerce. If the product numbers differ in any way, the synchronization won't work. If the admin encounters a sync problem, we recommend checking for leading zeros that might be missing.
Sync instructions from Square to WooCommerce
Step 1: Go to WooCommerce > Settings > Integrations
Step 2: Find the Square section and scroll down
Step 3: Click the Square > WC button
Step 4: The system will start the sync process. This can take a few minutes or longer, depending on the number of products.
Once the process is done, customers will be able to buy from your online shop and offline POS. Now, store owners can manage all sales from a single dashboard.
Sync instructions from WooCommerce to Square
Step 1: Go to WooCommerce > Settings > Integrations
Step 2: Find the Square section.
Step 3: Click on click WC > Square
Step 4: Synchronization will begin.
When the process is done, you will find your WooCommerce products on your Square dashboard.
Manual sync
If you start manual synchronization, it is important not to close the browser, turn off the computer, or put it to sleep. While automatic synchronization continues in the background, manual sync doesn't.
Inventory synchronization
Inventory is synchronized at the same time as products. Once the first product sync is finished, we recommend setting the automatic synchronization for inventory. Admins can specify what features they wish to sync.
The site administrator must check the Square inventory option to set automated synchronization. This box is not checked by default. It is possible to add inventory while performing manual sync by checking the "Include inventory" option. This option does not apply to automatic synchronization.
On the Square dashboard, admins can see the stock level for each product. When someone purchases from the store or eCommerce platform, the stock level will be updated both in WooCommerce and Square. Admins can set low inventory alarms to ensure their stock is always up-to-date.
Final Thoughts on the WooCommerce Square integration
Thanks to the WooCommerce-Square integration, retailers can sell products both offline and online. It helps run the store hassle-free with automatic and manual synchronization.
This option offers a comprehensive solution for synchronizing inventory, products, categories, and managing payments.
WooCommerce is a powerful and flexible eCommerce plugin. Square, on the other hand, is a simple POS solution. These plugins combined are an excellent option for retailers, artists, and craftsmen.
If you enjoyed reading this article on WooCommerce-Square integration, you should check out this one about the best Furniture WordPress theme examples to choose from.
We also wrote about a few related subjects like minimal WooCommerce theme options, WooCommerce vs Magento, and WooCommerce dropshipping plugin examples.