Subscribe to receive fresh stories, news and updates.
There are several eCommerce platforms. These assist users to create and run online stores.
Two of these are often considered to be the best: WooCommerce and Magento.
What is the best e-commerce platform? Who wins the WooCommerce vs Magento race?
Both plugins compete for first place in the top e-commerce platforms list. These options are usually compared with each other because they have similar characteristics.
They both have open source-free versions and run on PHP. They also need a web hosting provider to function.
Your business is important. So, choosing the best WordPress plugin for your online store is a big decision.
WooCommerce and Magento each have faithful fans but their opinions are usually biased. Hence, it's necessary to analyze both options and draw your own conclusion.
By comparing WooCommerce vs Magento, you can weigh the pros and cons and form an objective opinion. This article intends to go through both options in detail and help you make the best decision.
WooCommerce vs Magento: introduction
The purpose of both WooCommerce and Magento is to create e-commerce platforms. They are open-source systems, so they can be developed by any member of the community.
This section introduces both options before we delve into the comparison.
The WooCommerce plugin
WooCommerce is used by hundreds of thousands of companies. It is a WordPress plugin that turns a regular website into an online store.
This allows users to display and sell products, manage orders and payments, and ship items.
Many consider it to be the best eCommerce option for WordPress websites. It is very flexible and user-friendly.
It is the ideal option for users that are not experts in technology or web design.
With WooCommerce, users can sell anything and its platform supports unlimited products. It comes with an extension system that allows for many integrations.
You can use it in combination with all WordPress plugins and add-ons.
It works with many payment processors and it is compatible with lots of great themes, especially Rey, which we highly recommend.
WooCommerce offers the advantages of open-source software. These include lower maintenance costs, more flexibility, and higher speed.
Magento
Now it's time to introduce the second contestant. Magento offers two plans: Magento community and Magento enterprise.
The former is free, open-source software. The latter includes premium features and advanced services.
Based on users' needs, Magento is the best option for large online stores or small businesses with ambition.
It is often considered complicated software designed for advanced users only. Yet, this is not entirely so.
It is a powerful tool for large e-commerce websites and ambitious projects.
Both Magento and WooCommerce offer excellent solutions for a fully functioning online store. Either choice will ensure a high-quality e-commerce website.
Yet these options have differences that are important to consider. This is especially true if you have a clear set of goals in mind.
Let's analyze the differences and compare WooCommerce vs Magento.
WooCommerce vs Magento: Features
Both WooCommerce and Magento are open-source platforms. This provides a high level of flexibility when managing an online store.
This section lists the features of each plugin.
WooCommerce plugin features
Option to control tax settings considering local taxes.
Unlimited amount of products.
Possibility to set up fixed and flat shipping rates.
Large extension possibilities. It is based on WordPress plugins.
Compatibility with many e-money platforms. This includes some of the largest ones: PayPal, Stripe, and cash on delivery.
Variety of premium and free themes.
Advanced reporting on income, inventory, customer reviews, and overall performance.
Manage the plugin from the WordPress dashboard.
Possibility to promote products through digital marketing. Users can offer coupons, discounts, etc.
Magento features
Gartner names Magento as the leader of the e-commerce platforms by Gartner. This is in part because of its many features.
It is supported by Adobe Experience Cloud and it offers a unique shopping experience.
Integrated content management system.
Unlimited amount of products.
Privacy features when selling to specific clients.
Includes its own theme and layouts.
Possibility to add many product characteristics.
Includes APIs that can connect with any third-party software.
Mobile-device responsive.
Possibility to create more than one wish list.
Available templates to customize an e-commerce site.
Wide possibilities for digital marketing. Users can create targeted campaigns and use segmentation tools for their audience.
Performance
In the WooCommerce vs Magento race, it is important to consider the site's speed.
It doesn't matter how beautiful a home page is or how good the product pictures are. If the site's loading speed is slow, visitors will go to another page.
Also, speed has a direct impact on SEO results. To avoid losing customers to competitors, this is a vital factor.
Luckily, both Magento and WooCommerce perform quite well in this aspect.
Both are designed for an optimal loading speed. But other factors may affect this variable.
It is important to consider the web hosting provider and the available bandwidth. A store's performance will depend on its hosting. If you are an eCommerce company, make sure to pay attention to the bandwidth values when choosing any eCommerce hosting.
Deleting plugins and using CDN might help improve the speed.
So, when it comes to performance, there is a tie.
Security
Online stores are usually targeted by fraudsters and criminals. They can hack into a person's account and use their payment information to steal their money.
This is an unpleasant customer experience and also damages the store's reputation. If your store is the base of several dishonest transactions, clients are not likely to return.
Both WooCommerce and Magento offer advanced security features.
Being based on WordPress, WooCommerce is pretty safe. This platform has been improved to reach a level of almost complete security.
The only threats may come from using third-party software.
Magento includes many high-security functionalities. It frequently releases security patches and boasts many built-in security measures.
But these features are not easy to set up. Store owners with no tech skills may need the help of a professional to keep their e-commerce platform secure.
User-friendliness
Having strong design and e-commerce tools is vital for every online store. But these are of no use if you don't know how to implement them.
When comparing WooCommerce vs Magento there is a noticeable difference.
When using Magento, you may feel that they are in developers' territory. On the other hand, WooCommerce is intuitive and easy to use.
Both Magento and WooCommerce need an ecommerce hosting provider to function. But the second stage of the process can either be very easy or very tricky.
Creating the website's layout, pages, and sections is only half of the process. An e-commerce platform requires maintenance, editing, and updating.
A person may need to add or edit products, post blog entries or manage orders. Tech-savvy users may feel comfortable with Magento.
WooCommerce is more suitable for non-tech individuals. It offers a more intuitive user-friendly interface.
It is worth considering how easy it will be to administer your e-commerce WordPress site.
WooCommerce
This is the perfect option for users who already have experience in WordPress. This plugin is easy to manage from the WordPress dashboard.
It offers a set-up wizard that helps users install the plugin step by step. Any person with basic tech skills can complete the installation process.
This plugin will help to run your e-commerce platform hassle-free.
Magento
Magento is specifically designed for large eCommerce platforms. It offers a wide variety of features but they require web development knowledge.
Those who decide to use this software do need to go through a learning curve. To harness Magento's potential, you need at least basic tech and coding knowledge.
So, an inexperienced user will need some training and patience. For these reasons, Magento-based e-commerce platforms are usually run by web development professionals.
When it comes to ease of use, WooCommerce is the winner.
Extensions and plugins
Every e-commerce platform needs extensions and plugins. Thus, they can fulfill the needs of customers and administrators.
Every day there is a new app or feature and it's necessary to prepare websites for the updates.
Both Magento and WooCommerce can work with third-party solutions.
WooCommerce
WooCommerce must run on a WordPress website. This gives direct access to over 55,000 plugins and themes.
This brings immense customization possibilities. You can manage product types, subscriptions, payments, shipping, and marketing.
All this with almost limitless options.
Buying WordPress plugins is less expensive than Magento and that's a fact.
Transform eCommerce Stores Into a Powerhouse Using Rey Theme
Rey is the world's most exceptionally intuitive WooCommerce theme with free high-converting, captivating designs.
The best part? It takes only a few clicks to get the online store LIVE thanks to its easy to use setup and template library.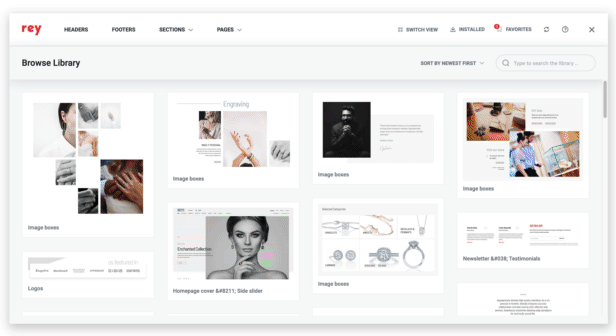 But this is what we're saying about our theme. Why believe us? Yet, here's what our users are saying:
Magento
Magento also offers an ocean of possibilities. It has an active community of developers and designers.
Thanks to them, users can access third-party extensions. There are free and paid options.
It offers a market of almost 4,000 extensions that cover almost every need. They offer solutions for accounting, security, content, customization, payments, marketing, analytics, site optimization, and client support.
As this shows, there are many exciting options to choose from. The only catch is that they need to be installed by developers of the Magento community.
Magento also offers an ocean of possibilities. It has an active community of developers and designers who have developed a wide range of third-party extensions, including Magento 2 SEO extensions, step checkout, extra fees, and product feed, offered by Mageplaza.
Product Management
This is a key success factor for any eCommerce platform. After all, the reason why someone creates a store is to sell products.
Hence, effective and hassle-free product management becomes essential. Both platforms offer excellent options in this regard.
They offer support for an unlimited amount of products.
WooCommerce product management features
With WooCommerce it is easy to add physical and digital products. There are also extensions like Product Add-ons that enhance the site's functionality.
Uploading and organizing products is quite simple, especially for WordPress users.
Magento product management features
The advantage of Magento is that it offers more options. Users don't need any extensions to access its many features.
This improves the site's functionality but requires a longer learning process. By not using third-party software, compatibility issues decrease significantly.
Magento offers wish lists, product reviews, grouped items, and product customization.
WooCommerce is the ideal option for small to medium shops that don't need advanced features.
If users don't have much time to learn, they can still set up their site quite fast. They can start selling in no time.
In the future, as the business grows, users can buy extensions. Additionally, offering Magento subscriptions allows businesses to set up and manage recurring payments for their products, further enhancing the user experience and increasing customer loyalty.
If planning to establish a large online business, then Magento is the best choice. Especially for those willing to go through a learning process.
Marketing & SEO
Both Magento and WooCommerce offer the necessary features for a strong Google presence:
SEO plugins available
Mobile-responsive themes
SEO guides
Possibility to write customized meta titles and URLs
Possibility to add image alt tags
WooCommerce
Since it's based on WordPress, a WooCommerce site has access to blog sections. This provides a field where users can develop a content marketing strategy.
With the right use of keywords, a business can grow without limit.
With WooCommerce, there's no need for extra software to incorporate a blog into your business. Through shortcodes, users can also insert attractive features in landing pages and blog entries.
WooCommerce also offers the possibility to study the market in depth.
Magento
Magento is just as good as its competitor. It offers SEO features to make a brand more visible in the market.
These include URL customization, canonical tags, and 301 redirections.
It includes site maps and Google tools. These features are not available in WooCommerce without extensions.
Pricing
This WooCommerce vs Magento round is about pricing.
WooCommerce's free version offers the basics. With these, users can create a reliable and functional e-commerce business.
There are other features available through paid extensions. These include subscription, auction, booking, and POS.
On the contrary, with Magento's free version it's difficult to create a basic store. In order to run a functioning site, the estimated expense is $18,000 a year.
While Magento offers a variety of powerful tools, it is not a cheap option. WooCommerce wins this round as it offers the e-commerce basics with its free plan.
WooCommerce
If starting or running a small business, WooCommerce is your best shot. But keep in mind that, to add advanced features in the future, it will be necessary to rely on paid extensions.
In the long term, WooCommerce can be the most expensive option.
Also, it presents other expenses: domain name, hosting, and an SSL certificate. A professional WordPress theme costs between $50 and $100, and paid plugins start from $25.
Running a WooCommerce store costs between $110 and $1,500 a year. It depends on the complexity of the site and how much work you are willing to do for yourself.
Magento
Magento has a free plan available. Its business plan with all features, however, costs $18,000 a year.
Pricy.
This makes sense considering the software is designed for companies with a turnover. In this case, Magento is the best option because it has powerful tools.
They certainly help a great deal when maintaining the success of a company.
For businesses that are not making a profit yet, WooCommerce is the ideal option.
User support
Neither of the options offers user support services.
Yet with WooCommerce users can submit tickets. Thus, it's possible to ask for help when issues arise.
For both Magento and WooCommerce, users can get support from forums or hosting providers.
Customer services differ greatly between Magento Community and Magento Enterprise. As open-source software, Magento's free version does not offer customer support.
In this case, a person can turn to the community for help. However, the Enterprise plan includes email support and even live assistance.
In this regard, WooCommerce is like Magento's free plan. Users experiencing difficulties can find answers in a forum.
Another option is to hire a web development professional.
Ending thoughts on WooCommerce vs Magento
This comparison of WooCommerce vs Magento leads to a definite conclusion. That is, that WooCommerce is the best option for beginners.
Those who are starting their online store need an effective e-commerce solution. It should be affordable, user-friendly, and secure.
It should provide a fast-loading platform with the possibility to display one's products.
WooCommerce offers all these features. It is a good choice even for those with big ambitions.
As the business grows, users can add extensions and improve their store's functionality.
Magento, on the other side, is the preferred choice for large companies. There is a good reason for this.
Magento is a powerful tool to run a large online store thanks to its security options. It offers SEO and performance advantages, limitless product features, and excellent customer support.
An online store is vital for the success of any business selling goods or offering services. Whether selling clothes, books, electronics, or food, an e-commerce site will reach more customers.
Both WooCommerce and Magento are excellent choices. They can help to grow a business and turn it into a solid e-commerce store.
If you enjoyed reading this article on WooCommerce vs Magento, you should check out this one about the best Furniture WordPress theme examples to choose from
We also wrote about a few related subjects like the minimal WooCommerce theme options and WooCommerce dropshipping plugin examples.